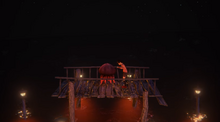 The Jellyfish are floating red creatures that are hidden in six of the seven doors available in the Nexus. They do not react to any effects or objects, but interacting with them causes a bell sound to play as they disappear. Locating all five allows the player to access the Secret Ending.
Dark Alley Jellyfish
Edit
The Jellyfish in the Dark Alley can be found directly to the left upon entering the door.
Wilderness Jellyfish
Edit
The Jellyfish in the Wilderness is found by riding the Train to the Barracks Settlement. Once the player has trapped the Mouth Monster, the Jellyfish can be found in a building that resides past the entrance to the settlement, and a bit to the right.
City Jellyfish
Edit
The Jellyfish in the City can be found in the regular School, after obtaining the Bathroom Key from (???). The bathroom is on the third floor, where the Jellyfish resides.
Mall Jellyfish
Edit
During the Mannequin segment in the Mall, there's a long room filled with boxes. Jumping up and to the left leads to a ledge with a door. Eventually you should obtain a key to the roof, where the Jellyfish resides. The Witch Event music can be heard on the far left of the roof.
Docks Jellyfish
Edit
The Jellyfish at the Docks can be accessed after the player has located the Umbrella Effect. It is located to the left of the fisherman, who resides at the far left of the dock. Simply double jump over the fisherman and float to the left to to find it.
Sewers Jellyfish
Edit
To get to the Jellyfish in The Sewers you need the Scarf and Hat, Umbrella, and the Mask of Fear. First you freeze the water by using the Umbrella with the Scarf and Hat equipped, then go to the long portion tunnel at the bottom of the map. With the water frozen you can jump up and enter the door. Use the Mask of Fear to kill the Alley Demons and the Jellyfish is at the end of the hall.